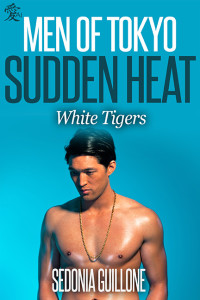 Publisher: Ai Press
Genre: LGBT; Contemporary
Series: White Tigers #5
Release Date: April 30, 2015
Read an Excerpt | Read the Reviews
EBOOK: Kindle

A weekend of passionate sex with a master White Tiger changes the course of Hiru's life forever…
Since an injury cut short his career as a champion martial artist, Hiru has lived a quiet dutiful life consumed mostly by his job and his ever-unsuccessful attempts to meet a woman. When his best friend and co-worker, Koji, finds love and happiness…with a man…and leaves the firm to pursue a new life, Hiru misses Koji so much he begins to suspect his difficulty with women is something other than he thought.
Maybe…just maybe…he wants men too? Well, there's only one way to find out – stay at the White Tiger, Tokyo's most luxurious love-hotel for gay men and be massaged, caressed and…more by Quan Chan, one of Koji's incredibly handsome fellow White Tigers.
Quan Chan is still nursing a broken heart when he's asked to attend to Koji's friend Hiru. So he's completely unprepared for his sudden intense attraction to Hiru's boyish good looks and incredible brawny physique. Hiru is like a human supply of catnip to the White Tiger inside him. All Quan Chan wants to do is purr and rub up against the other man. In spite of the temptation that awaits him back in Shanghai, Quan Chan spends an incredible weekend with Hiru, an encounter that launches him into ecstasy for the first time in what feels like forever.
However, when circumstances force Quan Chan back to Shanghai without the promise of return, the connection between him and Hiru proves stronger than a simple weekend of pleasurable exploration and Quan Chan finds himself suspended between Hiru and Wu Li, the most alluring and sensuous young man in Shanghai, a Golden Dragon, said to launch a man into bliss by a mere glance.
Back in Tokyo, Hiru feels Quan Chan slipping away from him. All he can do is follow his heart and hope it's not too late…
Note: This book has previously been published elsewhere.