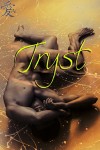 Publisher: Ai Press
Genre: Contemporary; LGBT;
Length: Short Story
Release Date: September 2007
Read an Excerpt | Read the Reviews
Order ebook: Ai Press | Kindle
Sean is stressing final exams, but not as much as his hot roommate Raj, who needs a model for his final art project. He thinks Raj might like the boys, but he's never been sure. Offering himself as Raj's art subject seems like the perfect way to find out if his sexy buddy wants to do more than dabble in paint. Can he catch Raj's shy eye?
Read an Excerpt
"I am so going to fail this class."
I look up at Raj from my own book and paper strewn desk. The poor guy is pacing back and forth, wading through piles of laundry and books. Our usually neat room is a casualty of the pre-final reading period.
I slip off my reading glasses, set them on my history book and watch him. I mean to respond to his distress with something useful like, "Of course you're not going to fail. You already have an index off the books and you're already accepted to the doctoral program." But it wouldn't do any good. Raj has to please his parents who are still back in India, and in any case, I've already forgotten about reassuring him because as usual, I'm caught up in simply watching him pace, sketchpad in one hand, charcoal pencil in the other.
Raj is one of those brainy geeky guys who also happens to be incredibly gorgeous. The fact that he doesn't seem to understand how fucking hot he really is only adds to his allure. In the background, music plays on his small boom box, a tape he brought with him from Bengal our freshman year. The sinewy exotic music offsets his movements, graceful, like a dancer and the fluorescent light of our room shines on his jet-black hair, like droplets of rain off a raven's wings.
I chuckle to myself as I watch him. He always inspires me to poetic language even though I'm a math major. I felt this way about him from the very beginning of freshman year when Housing miraculously placed us together. Four years later, the feeling has only gotten stronger and we're best friends.
He halts in the middle of the room and turns to me, large chocolate brown eyes pleading. "You're good with ideas, Sean. Please, tell me what to draw."
Holy shit. Is he kidding? My heartbeat raises just enough to make me feel like I'm jogging and I stare back into those incredible eyes of his. Of course I know exactly what he should draw but I'm not sure if I should suggest it, lest I freak him out. Not that he wouldn't be interested. After four years of living with him, I know that Raj is into guys. However, he comes from a family where being gay is not even a consideration and they're just waiting for him to get his doctorate, earn a good living and gain prestige so he can return to India and get married. Personally the idea depresses the living shit out of me because I'm not afraid to admit to myself how much in love with him I am.
"Let me think about it a minute, okay?" I need to buy a few minutes while I sort out the sudden torrent of stuff going on in my body and mind.
"All right," he says, still pacing. "Just not too long, okay?"
Read the Reviews
MY HOT MUSE is an amazingly sensual story about Sean and Raj. These two will burn you up and leave you wanting for more. Sean will capture your heart with his yearning for Raj that he thought would never be fulfilled and Raj is a mystery begging to be explored. I hope Sedonia Guillone brings them back soon in another story as I would love to read more about these two. MY HOT MUSE is the perfect read when you are looking for an incredibly sensual story.
– Joyfully Reviewed