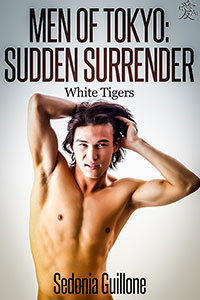 Publisher: Ai Press
Series: White Tigers, Book #2
Genre: Gay Romance; M/M
Length: Novel
eISBN: 978-1-937796-75-4
Flame rating: 4 Flames
Cover art: Louca Matheo
Word count: 78281

Kiku finally finds the beautiful man he can touch without painful visions. He just has to get Yuzo away from a sadistic master first…
In desperation for his life, Yuzo Kitano escapes the sadistic clutches of Taro Suzuki, one of Tokyo's fiercest yakuza, and seeks refuge with Suzuki's arch-rival, Kikuchiya Fujimara, owner of the White Tiger, a luxurious love-hotel for gay men which also serves as a spiritual community for its inhabitants. From early meetings with the handsome, charismatic leader who trains men in the sexual Tao, Yuzo senses deep inside he's found someone he can trust and who will keep him safe. What he doesn't expect is the absolute sensual bliss he finds with Kikuchiya's skilled lovemaking and realises he's found what he's really wanted his whole life. But does Kiku want him in return?
At first, Kiku sees only Yuzo's alluring beauty and desperate need for protection. But the headstrong impulsive Yuzo is also the first man Kiku has ever met whose touch is healing and calming for him, rather than a distressing channel for his psychic abilities, and the more he makes love to Yuzo, the more Kiku is in danger of losing his heart to another for the first time in his life. However, Kiku also knows that when Suzuki finds out where his slave has gone, there will be hell to pay. Kiku has already made one harrowing sacrifice to the yakuza in return for his freedom and might not survive a second…
Publisher's note: This book was previously published.