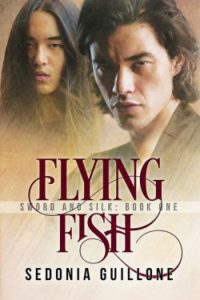 FLYING FISH
Publisher: Dreamspinner Press
Genre: M/M; Historical; Samurai; Yaoi
Series: Sword and Silk Trilogy, Book 1
Length: Novella (27,707 words)
Release Date: Available August 17, 2016
Order: Dreamspinner Press | Kindle | Nook | Kobo | iBooks | Google Play
In eighteenth century Japan, during the golden age of samurai and of the Kabuki theater, young actors known as "flying fish" traveled the countryside, performing for audiences by day and giving their bodies to their samurai patrons at night.
Genji Sakura is one such flying fish, yet he dreams of the day he'll find the man he can give his heart to and leave the loneliness of his itinerant life behind. Though he loves theater, he doesn't love every part of his profession, especially some of the patrons. So when a handsome ronin, or masterless samurai, comes upon him stealing some solitude for a bath in a hot spring and their encounter turns passionate and profoundly erotic, Genji's surprised and delighted.
Daisuke Minamoto's past fills his life with a bitterness that grips his soul and makes him dangerous. Yet his passion takes him when he spies on a graceful young man bathing naked in a hot spring. He has always loved women but he can't deny the call of his heart or his baser interests.
After an afternoon of sexual bliss, his heart and soul are tormented and torn. Keeping this miraculous lover will require giving up the one thing that has kept him alive for years: his hatred for the lord who murdered his wife. If he loves another, how will he go on and who will he become?