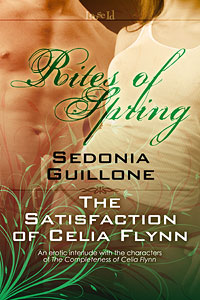 Publisher: Loose Id
ISBN: 978-1-59632-455-8
Genre: Historical; Menage a Trois and more (M/M/M/F);
Series: Celia Flynn; Previous Book: The Completeness of Celia Flynn;
Length: Short Story
Read an Excerpt | Read the Reviews
eBook: Loose Id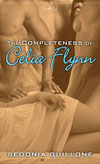 In Print available as Trade Paperback from Loose Id
ISBN-10: 1596325208
ISBN-13: 978-1596325203
Amazon | Barnes & Noble
Celia and her three men, Robert, Freddie and Patrick, have settled into a sweet life together under Celia's mother's roof. However, as a compromise to the uptight Margaret Flynn, the three men had agreed to take turns in Celia's bed. However, tonight, Celia's mum is away in Dublin. What she doesn't know won't hurt her. The restriction is lifted and Robert, Freddie and Patrick have a night of sweet, delicious, and slightly kinky eroticism planned for Celia. Get out the blindfold and let the fun begin…
Read an Excerpt
Ballykilmarrick, Ireland
March, 1918
"I propose a toast." Robert held up his wineglass and stood. The ruby liquid shone from the hearth fire behind him. "To our great fortune."
Celia held up her glass in agreement, as did Freddie and Patrick. The sting of tears rushed her eyes. Good fortune, indeed.
She watched Robert's gaze move from one of them to the next. His usual mischievous grin tugged at his lips and his dimples creased the planes of his cheeks. "We have much to be grateful for this night," he went on. His dark eyes shone and the firelight glinted off the rich brown color of his short hair.
"We three lads returned from war alive and basically whole. Celia was here, ready for us, wanting us to love her again." He inclined his head toward the nearby cradle, close enough to the fire for warmth, yet far enough for safety from sparks. "And there's a healthy, ruddy cheeked babe in that cradle, one year old today, Tommy is, a product of my and Ceil's love." A sparkle came into his eye and he shot a look at Patrick and Freddie. "God willing, there'll be more of those by you two lads down the road."
Celia laughed softly. Her cheeks tingled pleasantly, both from Robert's comment and from the bit of wine she'd had during their celebration dinner.
Robert's grin widened. "And," he continued, a suggestive note in his voice, "Our mother-in-law, the lovely Margaret Flynn, is in Dublin until tomorrow evening."
"Here, here," Patrick and Freddie said in unison, their voices a male chorus that made the tingle in Celia's cheeks spread lower, flush through her breasts and down, into her sex.
Celia knew precisely what Robert meant.
Robert raised his glass higher. "So tonight, we drink to good fortune in all its faces. Not that we don't appreciate Margaret and how hard she's worked to accept all three of us loving her daughter at once, but…" He shot a devilish grin at Celia. "On a night like this when we have the house all to ourselves, we can descend upon our lass, all three of us, rather than hold to the compromise we have made for Margaret's comfort."
A delightful shudder of warmth passed through Celia's entire body. The lads' concession to Celia's mother had been that each man would each take his turn in Celia's bed. One man, one night, at a time.
Robert leaned in and clinked his glass against all the others. The four of them sipped their wine and set the glasses down. Celia's head swam now, not from the drink but from the prospect of loving all three of her lads at once. And no doubt, Robert would have something fun planned to heighten their pleasure.
"Celia." Robert was gazing at her. Desire darkened his face. "I suggest we leave the dishes for the morrow and not put off our celebration a moment longer."
His look and words sent a frisson of lust through her sex. She nodded. "Aye. I agree."
Robert grinned. "I thought ye might, Ceil. And so, I have our special place all prepared. Lady and gentlemen, follow me."
Read the Reviews
THE SATISFACTION OF CELIA FLYNN is an unquestionable romantic interlude with these wonderfully diverse, though clearly destined characters from "THE COMPLETION OF CELIA FLYNN. I found it endearing how each of Celia's lovers' unique ways of pleasing her illicit Celia's deep abiding appreciation for the uniqueness of her men. Don't miss this continuing short.
4 Nymphs, Literary Nymphs Reviews
~~~~~~~~~~
Sedonia Guillone writes one hot ménage scene, that's for sure. The heat between the four lovers is only is only out done by the obvious affection they feel for each other. Each of the men has their own way of making love to her, and of showering her with that affection. A note to those who might be wondering, although there are three men, their activities are limited to the pleasuring of Celia. In fourteen pages, Ms. Guillone is able to show their emotions through their actions, leaving the reader satisfied, and with an understanding of the bonds which hold them together.
4 Angels, Fallen Angel Reviews
~~~~~~~~~~
Sedonia Guillone continues the story of Celia Flynn and her men. The night that her men created for her will have you not only panting with desire, but envious of the relationship and emotional connection these people have between them. THE SATISFACTION OF CELIA FLYNN is a very short story, but is packed with love and sexual chemistry. I highly recommend that if you have read the story that comes before this one, THE COMPLETNESS OF CELIA FLYNN that you should not miss this continuing chapter in Celia's story.
Two Lips Reviews
~~~~~~~~~~
THE SATISFACTION OF CELIA FLYNN is a nice follow up to the previous story where we met them. The sex is scorching and the love between all of them is felt throughout. Pick up THE SATISFACTION OF CELIA FLYNN for a nice sexy read.
Joyfully Reviewed
~~~~~~~~~~
THE SATISFACTION OF CELIA FLYNN was a very sensual and romantic read. Sedonia Guillone has nailed this one. It is brilliant. I love how all four characters love and interact with each other. I can't wait until the next installment of Celia and her three men.
Sensual Reads
~~~~~~~~~~
Well this book was so good, that I had to go and buy the first one. I didn't walk in to this one not knowing what happened in the first, but that was OK, it was good just as it was. I have so enjoyed this author's way of writing most don't feel it is possible to have one woman and three men. This author pulls it off with flying colors.
FOUR ROSES My Book Cravings