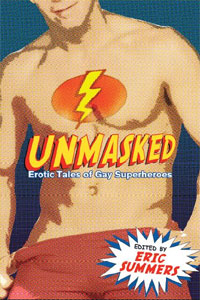 Publisher: Star Book Press
Unmasked – Erotic Tales of Gay Superheroes
Edited by Eric Summers.
ISBN-10: 1934187208
ISBN-13: 978-1934187203
Genre: LGBT (M/M); Fantasy;
Release Date: December 19, 2007
Read an Excerpt | Read the Reviews
Order ebook: Ai Press

| Order Now in Print from STARbooks Press
Sidekick and Bruce Lee look-alike Kit is not supposed to write about his superhero lover, The Hummingbird, but he can't resist. Kit's love… and lust… for the gorgeous muscular superhero just bubbles over and Kit is willing to spill ALL the juicy details…
Read an Excerpt
The press, his fans, the unappreciative dicks down at the Agency, and the asshole criminals he vanquishes night and day, call Liam 'The Hummingbird.' I guess I can't blame them for having given him such a superficial title. They only know him from the outside, watching his magnificently muscular body fly through the air at top speeds, hovering, moving up and down, backwards and forwards, snatching criminals from helicopters and airplanes as they make their getaways; saving screaming women and children from burning buildings and such.
Yeah, I know they can imagine the valiant heart beating in that broad chest dusted with swirls of raven dark hair, but they don't know him all the way through, like I do. (And I wouldn't want them to. I have a terrible jealous streak.)
No one asks me anyway, however, because I'm only the sidekick. Sidekicks (a degrading expression for me considering that my hands and feet are registered with the Agency as deadly weapons and spend great deals of time covering The Hummingbird's ass – okay, pun not intended) are never as important as the main superhero. Look what happened to Bruce Lee as Kato. Talk about getting shafted in the bad way!
To me, Liam Conner is an absolute wonder. Not because he can fly and because he's drop-dead fine, but because of who he is. Of course, that's the whole point of my writing all this down (and yes, I will give the delicious details even though I'm probably the only one who will ever read this memoir). Uh oh. Sounds like he might be waking up. * looks over shoulder to where Liam's still sleeping in bed. Sigh of relief that eyes are closed, mind is oblivious to what lover/sidekick is doing behind his back. * Liam would be pissed if he thought I was writing about him and not keeping my daily log of our exploits for the Agency. Uh oh, the sheet has slipped down, giving me a full view of his perfect hard ass. * stirrings of a raging hard-on in sidekick. * If Liam weren't so exhausted from saving the world, I'd slip right back into bed with him and. * sigh as forces self back to writing *
I guess you could say my complete body/soul devotion to him is because I burn for him through and through. Who wouldn't after eight years of working together (and well.relaxing too.night and day)? And after what he did for me. But I'm getting ahead of myself. In order to convey the fullness of my feelings for him, I'll have to start at the beginning of our.ahem.association.
It was actually Hummingbird who saved my ass first.
Read the Reviews
Sedonia Guillone has penned short but hot and heavy read that takes a look at the relationship between superhero and sidekick. It's a torrid look at what happens when the cape and tights come off.
Night Owl Romance