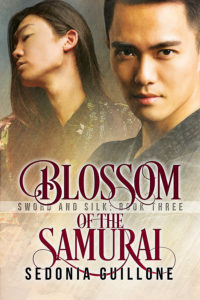 Series: Sword and Silk Trilogy, Book #3
Genre: M/M; Gay Romance; Samurai; Historical; Young Adult
Publisher: DreamSpinner Press
Release Date: February 15, 2017
Length: Novella (112 pages ~ 39,323 words)
ISBN-13 978-1-63477-544-1
Order ebook: DreamSpinner Press | Kindle | Nook | Kobo | Google Play
The samurai's only true master is his heart…
For seven years while training for his life as a samurai, Toho Morimasa has been away from Aoki, the beautiful actor who helped him to heal from the trauma of his parents' brutal murders. Now, nightmares that Aoki is in trouble plague Toho's sleep, and he makes the journey back from Edo to Kai, no longer wanting to be away from Aoki's side. Once there, Toho meets the very real source of his nightmares and vows to honor and protect Aoki. When his beloved Aoki is brutally assaulted, will Aoki survive long enough to understand that the love Toho has for him is the love he too has been craving his whole life but doesn't feel he deserves?
Read an Excerpt
Prologue
Edo, Japan, mid-eighteenth century, during the Tokugawa Shogunate
AOKI HAD known two days he could call the saddest of his life.
The first was the day his poverty-stricken parents had been forced to contract him to the traveling theater troupe that took him away when he had barely reached his tenth year.
The second was today, twelve years later, when another separation loomed before him, challenging the pain of the first.
Although the three figures seated on the tatami across from him, sipping the tea he'd served them, were not his blood and kin, he loved them at least as dearly as he could love any parent, brother, or sister. And today, as soon as they had finished their farewell meal, they were leaving Kai, en route to Edo, where their long-lost families awaited their return.
Sho, the anma—blind masseur—was the one Aoki had met first. Intimately so, as Sho had once been a customer, back in the "teahouse," before Aoki's acting career had afforded him the success and income to purchase the little town house in which they now sat. Back then, Aoki had never met a man as kind, gentle, and sensual as Sho, and had been very taken with him. Sho had always given him a little extra payment to store away so that he could free himself as soon as possible from the kagema house, become his own master, and be free to wait for the samurai of his dreams. Sho held a special place in Aoki's heart as one of the truest friends he could ever hope to have.
Hirata, a ronin samurai, sat to Sho's left. A ruggedly handsome man, Hirata had been Sho's childhood friend. The two men had been separated as children when Sho's blindness forced him to be apprenticed and sent away to learn his trade. But Hirata had searched ten years to find Sho and they were reunited, swearing an oath that nothing would part them again, not even death. Aoki had been a bit jealous of Hirata at first, but Hirata won him over in a short time with his passionate devotion to Sho and by the way he embodied Bushido, the samurai code of honor and conduct. And if anyone knew there were many samurai who did not practice Bushido, it was Aoki. Get a man naked and alone, and you quickly learned whether he was noble or not.
However, Aoki's sadness was greatest at the imminent departure of his third guest. Little Toho. If Toho could stay, Aoki could find a way to bear the separation from his new family. But Toho—once a peasant boy whose birth parents had been murdered nearly two years before—was now Sho and Hirata's adopted son, on whom Hirata had conferred his status as samurai. Toho needed to meet his samurai family and undergo the training that would help him fulfill his position in society.
"Aoki-san…." Sho's voice gently cut into Aoki's silent grief. Sho's sightless eyes appeared to stare at the floor. "I am so sorry we must leave you. We would bring you with us, if we could, of course."
Aoki set down the teapot and rested on his heels in traditional fashion, palms delicately on the tops of his thighs. He did his best to play the charming host even though his very heart was breaking. "I know. And I certainly would go with you, if I could." He glanced at Toho, who sat, face downturned, much the way he'd appeared the day Sho had brought Toho to meet him. Aoki couldn't help remembering that day.
"Toho needs someone who can be nurturing," Sho had said. "I thought of you, Aoki-san, because even though you're a man, I know how gentle and caring you are, the way a kind woman would be." With that, he'd encouraged Toho to come forward. Toho had, hesitantly at first because of the trauma he'd suffered, but as soon as Aoki had knelt before him, smiled, and offered him sweets, the friendship began.
Back in the present, Aoki's heart squeezed again. His arms ached to embrace the child, whose love and trust in him had blossomed just as Sho had predicted. But Toho had not been the only one to benefit from their friendship. Aoki never expected the tenderness and protectiveness welling up in him to bond him and the boy so deeply. "To-chan," he said softly.
Toho lifted his gaze and as always, captured Aoki with those deep set, striking dark eyes, the perfect shape of half-moons under arched brows. By Toho's gaze alone, Aoki could see he would make a fine, honorable samurai. Aoki reached out his arms to him.
Without a word, Toho rose and took the few steps to close the space between himself and Aoki. He let Aoki wrap him in an embrace and rested against him, his face buried in the fall of Aoki's long hair. Toho loved Aoki's hair, loved to run his hand down it and feel it against his cheek. Aoki could always feel Toho remembering what he'd lost yet also healing because he had that same nurturing back, even if just a little bit. Aoki sighed, now feeling Toho's hands fist his kimono. He closed his eyes a moment and rested his cheek against the boy's head.
Toho's anguish came through in the clench of his fingers on the linen. "I'll come back to you, Aoki," Toho said. "I promise." Already his voice carried the determined passion and devotion both his fathers had. Only months ago, Toho had been a traumatized silent mess. Under the care of his fathers and—Sho and Hirata both often said—Aoki's nurturing love, the child had healed by leaps and bounds and the samurai had begun to emerge.
Warmth surged through Aoki's chest, and he squeezed Toho closer. "I'll be very happy on that day, To-chan. I'll wait right here for you." He refrained from adding how lonely he'd be without his three dearest friends. In spite of his success on the kabuki stage and the beautiful little home he now had, without the love of his friends to warm it all, the world felt cold and empty. But he didn't want to burden them with his grief. Sho and Hirata had both been away from their families for many years and the journey ahead of them would be difficult enough, especially with a troubled child in their care. Aoki did not want to add to their concerns. He wanted to be for them what they had been: a source of support and care.
After several quiet moments, Sho stirred. "We must be off, Aoki-san. We have a long journey ahead."
Aoki nodded. He tried not to cry but when Toho squeezed him hard, his tears rolled freely. He wanted to reassure Toho, to tell him everything would be all right, but he wouldn't lie to the boy. There was no way to know such a thing. He'd been separated from his own parents a long time ago and had suffered so much aching loneliness from missing them. All he could do was return Toho's embrace while his tears wet the top of the child's dark head. When he heard Sho retrieve his cane and the two men begin to rise, he gently disengaged Toho from his embrace and wiped his wet cheeks. "Oh my," he said in a sniffly voice. "I must look a mess."
But Toho fixed him with that newly emerging look of strength he now had. "You could never look a mess, Aoki-san," he said in his fierce child's voice. "You're my beautiful big sister."
Aoki laughed through his tears. "Thank you, my dearest." Then he thought of something. He reached for the tie in his hair, pulled it out, and handed the length of black ribbon to Toho. "Take this, To-chan, to remember me."
Toho gazed up at him. Then he reached up and yanked the tie out of his own hair. "We'll trade, Aoki-san, and I'll wear yours all the time until I'm able to bring it back to you."
Aoki forced himself to smile. "That's a perfect idea."
Sho and Hirata had to wait while Aoki redid Toho's hair. To their credit, they didn't scold Toho. They both understood the horrible losses the child had already endured, watching his parents brutally murdered by a gang of killer ronin, and so allowed Toho his last moments with the friend who'd helped bring him back to emotional health.
Gathering up the boy's hair to the crown of his head, Aoki wrapped the length with his ribbon until the end fanned out like a beautiful ebony tea whisk. Then he lowered his hands. "There. Perfect." He expected Toho to get up, but the boy held out his hair tie.
"Put this in first, please, Aoki-san."
More tears escaped Aoki's eyes. He accepted the tie wordlessly and wrapped it around his long length of smooth hair. Only then did Toho rise, his little face a mask of sadness. He stood, staring at Aoki, and in the next second, threw himself at Aoki, squeezing him tightly. "I'll come back to you, Aoki-san," he said, his voice muffled by the soft material of Aoki's kimono. "I promise!"
Aoki returned the embrace. His very heart ached. "I'll be right here, To-chan," he said, closing his eyes and treasuring their last moments together. "I'll be right here."