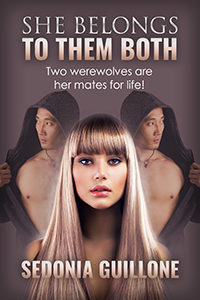 Genre: Menage; M/F/M; Paranormal; Shapeshifters; Werewolves
Publisher: Ai Press
Length: Super novel (82,646 words)
Release Date: Coming Soon
Cover art: Louca Matheo
Read an Excerpt | Read the Reviews
Two werewolves are her chosen mates for life!
Since he was bitten three years ago on the plains of Tibet, Jie Sing has fought back the ravening beast inside him. His attempts are unsuccessful until the stars lead him to the woman destined to be his mate, half a world away in Boston's Chinatown. Fighting a deadly rival to keep her, Jie finds that in Megan's arms, their passion keeps the beast at bay. Then Jie receives an urgent call summoning him back to China. Jie's ex-wife in Beijing has accused Jie of attacking her in the street and had him arrested. But that's impossible, seeing as he's in America with Meg! Who is this "twin"—and why does Meg need to make love to both of them?
Publisher's note: This book was previously published at Ellora's Cave Publishing under the title, "Kiss of the Werewolves".
Publisher Note: Previously published elsewhere.
Read an Excerpt
Only then did she become aware again of their surroundings. The motors hummed and vibrated through the small space, reminding her they were in the plane lavatory. She couldn't help smiling to herself. Before Jie, something this wonderful, this erotic would never have happened to her.
Finally, when they were rested, they maneuvered in the tiny space, worked around each other to do up their clothing. Once dressed, Jie took her in his arms again and nuzzled her hair. "Now," he said softly, "we should both try to get some sleep." His hand slipped into her hair, cradling her head. "As soon as we get to the hotel and settle in, I have to contact Su Lin."
Meg sighed. "I know." She wished she could just enjoy the languorous aftermath of their lovemaking without the specter of meeting Jie's ex-wife hovering. She was tempted to ask Jie to just let it go, not to bother defending himself. But she knew how guilty he felt and how important it was that he was cleared of Su Lin's accusation.
She let her thoughts wander to the stranger whom Su Lin thought was Jie. A strange tingle shimmered down her spine. Who was this man who looked so much like Jie that Su Lin thought he was her ex-husband? As a woman, she felt she would know Jie anywhere, even if he'd changed physically and she hadn't seen him in a long time. She had taken Jie into her body and heart. He was imprinted on her very soul, as no doubt, he was on Su Lin's. That thought made jealousy simmer deep in her gut, relieved only by Jie's tender adoration.
Jealousy aside, the truth remained. There was something strange going on—though it couldn't possibly be more bizarre than the fact that the man she loved changed from a man into a wolf-like beast at every full moon. They would obviously have to see this mysterious stranger and Jie would need to identify him while they were in Beijing in order to prove to Su Lin and to the authorities that he had been in the United States at the time of the stranger's arrest.
"What are you thinking, Meg?" Jie's gentle tenor cut through her musings.
She looked at him. Guilt snaked through her for all her private thoughts. She searched her heart for the words she really wanted to say. Now was no time to express fear and jealousy. "I was thinking how much I want everything to work out."
He rested his hands on her shoulders and nodded. "Me too," he murmured.
Jie left the lavatory first and she followed him after washing her face and smoothing and repinning her mussed hair. Then she went out and took her seat next to Jie, trying to get some rest with her hand laced in his.
Read the Reviews
Ms. Guillone has created a story that encompasses feelings from the heights of rapture to the depths of despair. The characters leap from the pages as their compelling story engages the reader for the start. I was fascinated how Jie uses his mastery of Tai Chi to control the wolf inside of him, but isn't Tai Chi about spiritual awakening not about control? Will Jie be in time to save his mate? The awakening feelings that occur between Jie and Megan are rare and beautiful. The introduction of Shenko into the plot increases the pace and depth to the story that deepens the emotional feelings between the characters. The meaning of the title doesn't become apparent until the reader is well into the story, but I won't give it away now. This story has everything that a reader could ever want: love, passion, friendship, faith, mysticism, anger, and even hate. This is one book you won't want to miss.
5 Angels, Fallen Angel Reviews
~~~~~~~~~~
Sedonia Guillone has a sequel to DANNY'S DRAGON with Meg's story KISS OF THE WEREWOLVES. I am so glad Ms. Guillone has given Meg her own story as Meg is a very special character both charming and innocent. She is thirty, yet still sleeps with her teddy bear which I found her completely endearing. Jie has an air of innocence about him too. He is from China and very strong in his beliefs and he has such gentleness with people that comes across as you read Kiss of the Werewolves. Together he and Meg make the perfect couple and their love is beautiful to watch unfold. Though part of a series this title can be read alone and completely enjoyed. I look forward to many more stories from Ms. Guillone in the future.
Tina, Two Lips Reviews