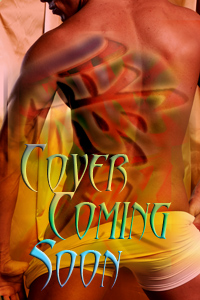 Ai Press
Genre: Fantasy
Length: Novella
Release Date: Coming Soon
Read an Excerpt | Read the Reviews
Karan, a brawny and powerful warrior known for his ethical and decent nature, was the Pierran Queen's prized general until a hideous betrayal left him an outcast, whipped and branded, his family destroyed. Years after his banishment, rumors circulate that the ruined warrior haunts the hills just beyond the palace walls.
When Ariana, the queen's favorite slave, is framed for murdering her mistress, Ariana escapes a brutal punishment only to be captured by the very man Queen Maya had exiled.
From the first moment she sees her captor, Ariana recognizes the good heart beating in Karan's broad chest. Her faith in him and her enchantment with his physical beauty prove as irresistible to Karan as the comfort she offers him. He succumbs to her erotic charms in spite of the walls he's built around himself. Together, he and Ariana find a new chance at life and love in each other's arms.
However, the palace holds something extremely precious to Karan, the reason he's remained so close to the place that ruined him. Only Ariana has the ability to make the rescue that will free Karan completely. Desperate to begin a new life with the man she loves, Ariana risks her life to return to the palace and end Karan's emotional imprisonment to the Pierran realm.
Note: This book is related to "Heart of a Sorceress" in which Ariana's romance with Lara's father is mentioned. However, both books can be read as stand alone stories.
Publisher Note: Previously published elsewhere.
Read an Excerpt
Unedited. May differ slightly from final version.
Ariana felt her heart squeeze with pain and wished she were strong enough to comfort him in the way she wished.
"There are conjurors in the palace, my lord. No doubt Dogon employed them to bewitch the queen's mind. There is no other answer."
Karan sighed deeply. "Perhaps you are right. And if that's so, it does take some of the sting out of it to know she would have supported me otherwise."
Ariana felt a tear collect in her eye and she reached out a weak hand, putting it over Karan's branded one. "She would have, lord. She was a selfish woman in some ways, but not a cruel one. I knew her well. She would not have knowingly turned on you."
Karan looked at her, his expression twisted in pain. He set down the empty bowl and spoon, and picked up her hand, bringing it to his lips, pressing into her soft palm. Then he held it to his cheek.
Ariana's eyes fluttered closed at the pleasure of his silken beard against her skin. Slivers of heat began to shoot through the slit of her sex, and she could feel the musk gather, like wet rain clouds before a storm. Her breathing deepened.
"I curse those who made you a slave," he said in a husky tone. "I wish Galen's wrath on them."
Her deep breaths caused the fur skin around her to loosen. She let it fall, wanting him to gaze on her nakedness. Her breasts were already swollen, the nipples tingling in erect peaks.
Karan reached out to cover her, but Ariana grasped his hand. She stared at him, silently imploring him not to pull away as she slowly moved his hand over her breast, pressing it down so that his fingers closed around it.
With her hand over his, she moved it around, bidding him to rub the swollen orb of flesh.
"Please, my lord," she whispered. "Have me."
She heard his breathing grow ragged. His eyes smoldered as he gazed on her. One breast was still bare, willing him to bend and kiss it, the other, tingling exquisitely under his callused skin. He appeared to be waging an inner battle between her seduction and something in his conscience.
He started to pull his hand away, but Ariana held him fast and gave a small whimper of protest.
"You owe me nothing, Ariana," Karan said gruffly. "Galen should strike me down for exacting a price to protect you. You are not my slave."
She stared into his eyes, frightened that he was turning her away. It had always been known about the general that he never took slaves. He had always refused the queen's offer of a bed-slave at palace banquets. But this was different, she knew. She loved Karan's soul as she appreciated his warrior's body. These feelings were utterly new and had closed over her like one of the giant waves her father's boat used to battle when he was fishing at sea. She felt her lip tremble and tears gather in the corners of her eyes.
"I give myself to you willingly, Lord Karan," she said in a near-whisper. "I know who you are and I love you. I would follow you anywhere."
Ariana waited for him to lean forward and kiss her. She wanted him so badly to nuzzle her breasts and cover her body with his. But he still watched her, a strange, twisted look of guilt darkening his chiseled features.
Read the Reviews
A story of selfless love, courage, and the daring of a woman to rescue something for the man she loves. I like it when women are shown to be smart, strong—not necessarily of body, but spirit—and unafraid to be sexy. This was a good read.
Alternative-Read.com
~~~~~~~~~~
Sexy, sweet, and a great read. GENTLE WARRIOR is different from any book I've read, and that's saying a lot. It's a fast paced book with lots of danger, betrayal, love and very sexy nights. It's gone with my keepers.
Simply Romance Reviews